BRYC takes part in Barents Summit in Kirkenes
3-4 June Kirkenes (Norway) hosted a summit, devoted to the 20th anniversary of Barents Cooperation. The heads of Norway, Finland, Russia, Iceland and Denmark, representatives of the European Commission discussed cooperation in the Barents Euro-Arctic region, visa-freedom, transportation and other issues. The representatives were talking about the improving ties between our nations, about our region's future. Anna Rybalova presented Barents Regional Youth Council. In her speech she touched upon the most burning issues, such as youth unemployment, education, transportation and environment.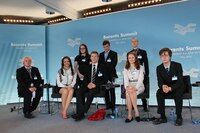 The Barents Summit in Kirkenes has adopted a new declaration, which sets out that efforts to make border crossings more efficient for both goods and persons will be continued, and that the goal is visa-free travel. The declaration also highlights the need for improved transport networks in the Barents region, the importance of cooperation on business development,environment issue.
Eirik Mofoss, member of Barents Regional Youth Council, Troms county, tells about his impressions about the summit and perspectives of Barents cooperation: "20 years ago the Barents Cooperation was initiated. Two months later I was born, and together with other young Barents citizens I have grown up in a region of cooperation and close relations. Long forgotten is the Cold War. Today and yesterday in Kirkenes, I have been so lucky to meet Jens Stoltenberg and Dmitrij Medvedev among other state leaders. This shows the importance of the Barents region, and the importance of youths! Much is left to be done, but the future definitely looks bright!"