Joint Working Group on Youth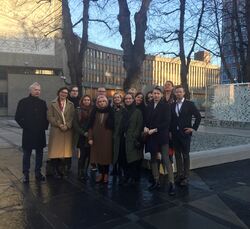 The main purpose of the Joint Working Group on Youth (JWGY) is to further promote young people's active citizenship and strengthen the networks and international contacts of young people. The Working Group also plays an important part in the implementation of the Barents Regional Youth Programme.
The JWGY consists of representatives from the ministerial and regional administrative levels of authorities responsible for youth policy.
The Working Group has a close cooperation with the Barents Regional Youth Council.
In 2002, the JWGY founded the Barents Youth Cooperation Office (BYCO) in Murmansk. BYCO's purpose was to provide information to youth groups about funding opportunities, potential partners and relevant activities in the Barents Region. The JWGY gave BYCO its mandate and funding, while BYCO reported back to the Working Group. BYCO was operating until 2016, and due to unforseen financial circumstances, the Office was forced to close down.
Norway currently holds the BEAC Chairmanship for the period 2019-2021, and therefore chairs the Joint Working Group on Youth.