Barents NOW&THEN: connection established
Barents NOW&THEN is an event that gathered young people from the four countries to discuss the past and set the future vision for cooperation in the Barents region.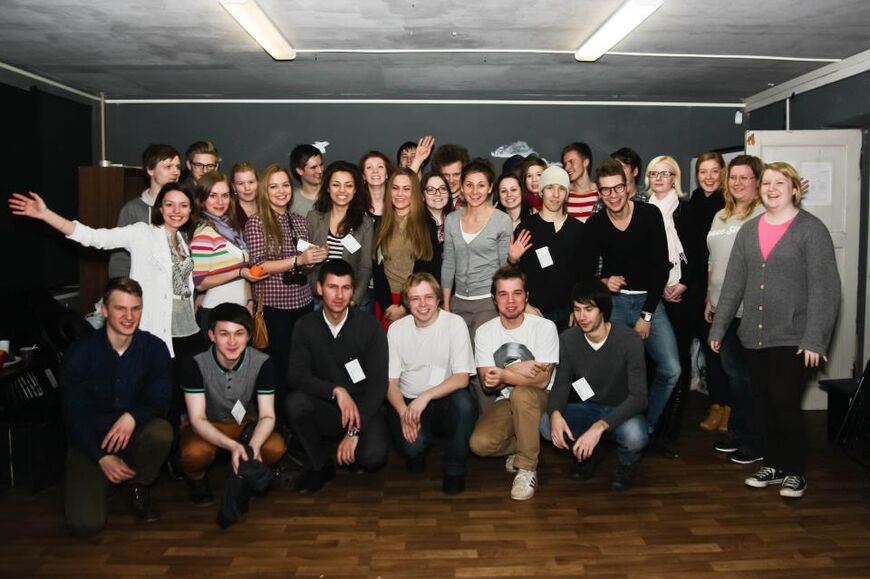 Prospects of cooperation in the Barents Euro-Arctic region is a serious and trending topic. And of course the discussion should comply with the seriousness: a conference form is fitting best, it is obligatory to have some scientific presentations, more business talks and loud declarations. This seem to be the right way and most often successful meetings are held in this way. But youth event Barents NOW&THEN, implemented in Murmansk 14-17 December has brilliantly shown that the form of such meeting can and should be changed and that even the highest goals can be reached in a fun, bright and creative way.

Barents NOW&THEN is an event that gathered young people from the four countries to discuss the past and set the future vision for cooperation in the Barents region, to communicate and exchange experiences. This has been an amazing event involving the variety of participants who dared to take a long winter trip to our region. Last weekend Murmansk was hosting active and creative young people from Norway (Tromso, Bodo, Tana), Finland (Ivalo, Rovaniemi), Sweden (Lulea) and Russia ( Syktivkar, Arkhangelsk, Petrozavodsk). A more diverse group is hard to imagine, and during the project they worked in four directions at the same time – music, dance, media and applied arts.
So about 70 participants from different countries, regions, having different backgrounds and interests and ambitions met to discuss the common future of the region. This large scale project was organized be Zhanna Guzenko (Barents Regional Youth Council) and Maria Petrova (Barents Youth Cooperation Office). Barents NOW&THEN is an annual event of Barents Regional Youth Council that was held in Murmansk this year. Official part of the event was opened by a presentation of the history, aims and achievements of the cooperation in the Barents Euro-Arctic region and continued with group-work on its past, present and future. And this work has continued during two nest days but in a totally different, creative form. The teams were to cooperate together and to create their vision of the future of the region and to present the relations between the countries using a creative artistic form. Each of the groups was led by an expert who helped the participants during the common creative process. Timur Misinov created a music group out of musicians that met for the first time at Barents NOW&THEN event, Oleg Pork and Aleksander Alexeev were leading an active photo and video team, Nadezhda Glinskaya was directing artistic activities in arts and crafts group and Elena Glazova was charging with energy a newly born dance group.
Oleg Pork, the media workshop leader, comments: "We had extremely active 72 hours! As to media group – it was the most sporty of all the groups, we had to move around between the other groups. And the time limits were very pressed, but anyway we succeeded in creating a ready media product. Of course, we have more ideas on what could be done, but what we have done is also worth seeing. Some participants come to Murmansk with very serious approach and were calling the event a conference, but there were also many who first of all wanted to have fun and get new friends. It is too early to speak now about how this project contributed to achievement of long-term goal – making the region more attractive for young people, but no doubt that is has been successful in establishing people-to-people contacts and cooperation. It was achieved due to well planned programme and cultural part, and due to all participants being open to communication and cooperation in a mixed international crew.
According to Zhanna Guzenko the result fits the expectations. "The only thing that could be improved is that is was not possible to organize everything at one location. The participants had to travel a lot through the city and there have been some delays in the program. It would be more efficient to have it in one place." Despite those small things, that are typical for any other large-scale project, most of the participants have very favorable impressions from the weekend.
Inna Fedorova, participant at arts group tells us: "Already during the first day I saw that despite our being from different regions and countries we are "on the same wave". I'm very glad that I participated in this event, it was really great to do something together, visualizing our thoughts in an artistic installation (for our group). The aim was to show the region in the past, present, and future. For the past installation we wanted to create something cosy and homelike, so it became a house in a winter forest. For the present we made an oxford cap as we associate the present of the region with students and student exchanges. And for the future of the region we draw a map of the region with the goals for the region, that we want to achieve in the future. And I really enjoyed final presentations of all teams. We all are thinking in the same way, and we want our ideas to contribute to the development of the region. I think that we will remember those two days."
Eirik Mofoss (Norway, Tromso) is also enthusiastic about this event. "We all had very high expectations from the event, and they were fulfilled. In Murmansk, the biggest city above the Arctic circle, a city of many opportunities – all the participants were inspired to improve their projects. Having just met we found a lot of common interests. And most of all – I like everything though – I will remember the atmosphere. Both when we were working and when we having fun. The atmosphere where you can feel that everybody believes in the successful future of the Barents region. I would like to thank the organizers for a great event!"

Text by Anastasia Brizgalova
Photos by Oleg Pork, Nastya Gordeeva and Alex Alexeev
The project was financially supported by the Youth Program of the Norwegian Barents Secretariat and regions - members of Barents cooperation.
More pictures at http://www.facebook.com/groups/169232359883548/photos/